Discussion Starter
·
#1
·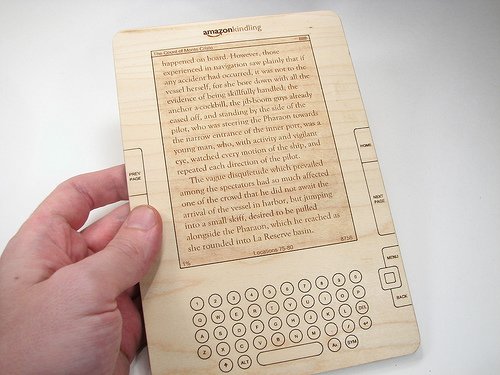 Nicely done!
Link:
http://www.slipperybrick.com/2009/05/wood-amazon-kindling/
Update: this item is for sale now on eBay -
http://cgi.ebay.com/ws/eBayISAPI.dll?ViewItem&item=170331750580
. Current bid is $61.
The witty writeup:
Say Hello to the Kindling, the incredible palm-sized wireless reading device.

Slim: Just 1/4th of an inch, thinner than most quesadillas.

Lightweight: At 4 ounces, lighter than a typical Zippo.

Wireless: Start reading anytime, anywhere; no monthly fees, service plans, or hunting for Wi-Fi hotspots

Incredible Display: Reads like real paper; now boasts 2 shades of gray for clear text

Uses no batteries or electricity; observe it for days without recharging.

No need to shut it off during air travel

Storage: Holds 900 bytes of information (about 120 words)

Made of plywood, a material often featured in Extreme Makeover Home Edition

Complete lack of functional buttons.

Also makes a handy cutting board.