Discussion Starter
·
#1
·
***ALERT: long initial post***
+ NOTE: all kinds of interesting info in the pages below. Just a few guideposts:
-- My 2-month update: Message #73, bottom Page 3
-- Discussion about creating a Series ad (no can do!) starts on Page 4
-- Discussion about scaling up by increasing daily budget starts on Page 7
-- Discussion about running simultaneous ads and testing ad copy around Page 13
-- Discussion about running ads for non-first-in-series books starts bottom of Page 15
-- Discussion about Sequential ad copy testing (with my 7-day test results) starts on Page 16
-- Discussion about Previewing your ad starts on Page 18
-- Discussion: "What's an Impression?" starts on Page 18 -19
-- My 3rd Sequential ad copy testing report starts on Page 19, Message #460
-- Slowing of AMS effectiveness? Start reading Page 22-23
-- My 1-month update on latest ad copy change: Message #591, Page 24
-- AMS Account Mgr input starts at bottom of Page 25
-- Automatic vs. Manual Targeting discussion starts bottom of Page 27
-- My 99-day update on latest ad copy change: Message #1354, Page 55
* Introduction:
As a relatively new indie-self-publishing author, I've learned a lot here in the Kboards Writer's Cafe while preparing my fiction writing debut, so I'd like to offer some thoughts about my recent (14 days in) experience with AMS ads. I was between books and decided to spend some marketing time on AMS. This thread can go on as long as needed, and I'll be adding updates when I can. Feel free to add your own ideas and answer questions raised (including mine) or pose new ones that relate to AMS Ad Learning.
* Where I'm coming from:
I may be different from many reading this, so keep that in mind. I'm doing a novella series in Historical Fiction; early 17th century time period with New York City/Manhattan as the focus setting. Genre surely influences AMS ad performance so filter as needed. Two short books (novellas) are now out (both in KDP Select/KU); the third is releasing soon. I wanted to start AMS ads with the release of Book 2 ("1612") at its discounted price ($0.99 from $2.99) and carefully studied what I could and could not say about price in the ad, but Zon still rejected it. Rather than argue with them, I just re-submitted the ad without any price mentions and made sure the book detail page had all that verbiage. Then I quickly created and launched my AMS ad campaign for Book 1 ("1609"), which I'm keeping at a low $0.99 as a funnel into the series. Then I changed the copy of Book 2 and started a new campaign for that, eventually raising its price back to $2.99. Got it?
I'll focus here on Book 1, which has a longer run (14+ days for this post) but throw in some info from Book 2 as well.
* My AMS Setup:
Type: Sponsored Product; avg Daily Budget: $1.00; Targeting: Manual
Here's what I've learned after 14 days...

ABOVE: January 16 - 10 days of Book 1

ABOVE: January 20 - 14 days of Book 1
* Dashboard Delays:
My initial routine was to view and record the single-line campaign stats (charts above) to get familiar with the workings of the system: 11:00am, 5:00pm, and 11:00pm each day (have now backed off to twice a day). AMS says right on the Dashboard: "Campaign metrics may take up to 3 days to appear..." My delays seem to be around 2 days, primarily in the Sales column. Well, that kinda makes things hard to measure, especially if some things are updating while others are not within the same campaign. For example, I noticed I would sometimes see new Sales but NO new Clicks. Huh? Assuming that AMS is only tracking sales within the AMS ecosystem, which it states it is, this doesn't make sense UNLESS it's explained by different metrics (dashboard columns) lagging others within the same campaign. Then I also noticed sales showing on my campaign line but NOT showing in the Sales column in the Keyword tab page. Then 1-2 hours later, there they'd be! So all this tells me I can't rush this stuff; gotta play the long game.
* Keywords ("KWD"):
An important subject for this AMS ad business. I started off with about 25 KWDs but soon ratcheted that up to 225. Some recommend filling all 1,000 available slots, but that seems unwieldy, especially when so many end up doing nothing. Of course, if I see new KWDs with potential, I'll add them.
The following is based on viewing the detailed "Keywords" tab in the campaign: (see chart below)
* CPC Bidding:
Because I didn't know anything, and because Amazon's suggested bidding amount was $0.25, I just went with that. But over time and with learning, I began pulling many of those bids down lower and lower. Why? One reason was because I was hitting my $1 Daily Budget too early in the day (sometimes in a couple of hours), and I wanted to track full days. Also, most of the daily budget was being drained by Clicks that didn't go anywhere, i.e., no Sales. Moving forward with new campaigns, I might take the opposite approach: Start all at minimum bids ($0.02) and ratchet them UP over time.
NOTE: the "day" for AMS is supposed to be midnight YOUR local time, but I noticed that was usually later in the middle of my night. Then I received an email from Amazon stating that the "ad day" begins at 12:01 AM Pacific Standard Time (GMT-
, which is 3:00AM in the morning for me on New York time, so that explains that.
* Impressions:
I don't really care about Impressions as long as I'm getting some, and they started immediately and usually increase by several thousands each day, with the exception noted below. It's easy to get loads of impressions by just adding big, generic keywords ("unlimited," "books," "Kindle") but that's a waste effort in my opinion. But there was one exception to this idea: the keyword "fiction," which Amazon suggested in its initial grouping. I was skeptical, and it only got 1,339 Impressions in 14 days (and three clicks), but I've already gotten one sale out of it. FYI: Just for the heck of it, I even threw in "Trump" as a Keyword along the way and within days, his Impressions were beating out many of my genre's author names. But with little relevance (although he is based in Manhattan, which is my primary setting, so there actually is some relevance, if far-fetched), the Clicks are still at 0 for Prez Trump, but with a $0.02 Bid, it's an inexpensive experiment.
One anomaly with Impressions in my 14 days was the six times that the Impressions DROPPED, usually at the end of the day, and mostly after the Daily Budget had been spent. How can this be?
***Anybody know
UPDATE: Just re-checked and it was always after the Budget was spent. So I can see the algo freezing the Impressions but not taking them away. Still curious.
* Clicks:
I check the Clicks column regularly, sorting from top to bottom, and make note of any new "top clicks" (3 or above) and adjust the CPC bid according to my bidding strategy below. FYI: it was 23 Clicks to the first Sale on both books, and both occurred on Day 3 of their respective campaigns. Interesting, eh? Wonder if that included a 2-day delay in Sales reporting?
* CTR (Click-Through Ratio: Clicks / Impressions):
CTR isn't even on the AMS chart and doesn't interest me much, mainly because it doesn't take into account off-relevance KWDs or ad placement. Besides, it's easy enough to see at a glance by sorting the Imps column and looking at the Clicks next door.
* ACPC (Average Cost Per Click):
Best viewed per KWD on the column breakout page. Doesn't mean much if you have only 1 click, but when click numbers (per KWD) go up, it's a helpful metric for adjusting the CPC Bid.
* Spend:
Self-evident. Also sortable by clicking on the top of the column.
* Sales:
An important column to sort to see how the metrics are relating. But there is that 1-2-3-day delay to deal with.
* ACoS (Average Cost of Sales):
Very important, but even more important are the ACoS numbers PER KWD. Those are what I spent time looking at and how I came up with my personal Bidding Rules (see at bottom).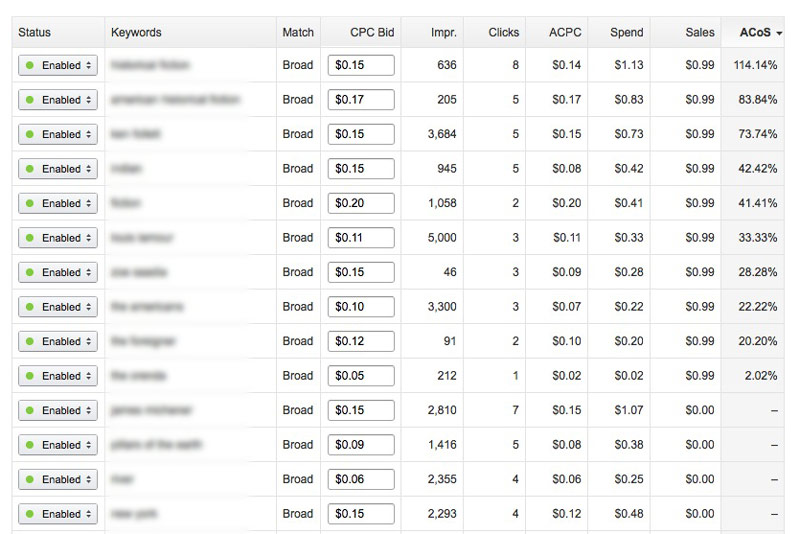 ABOVE (partial view): "1609" - Jan 16 - 10 days in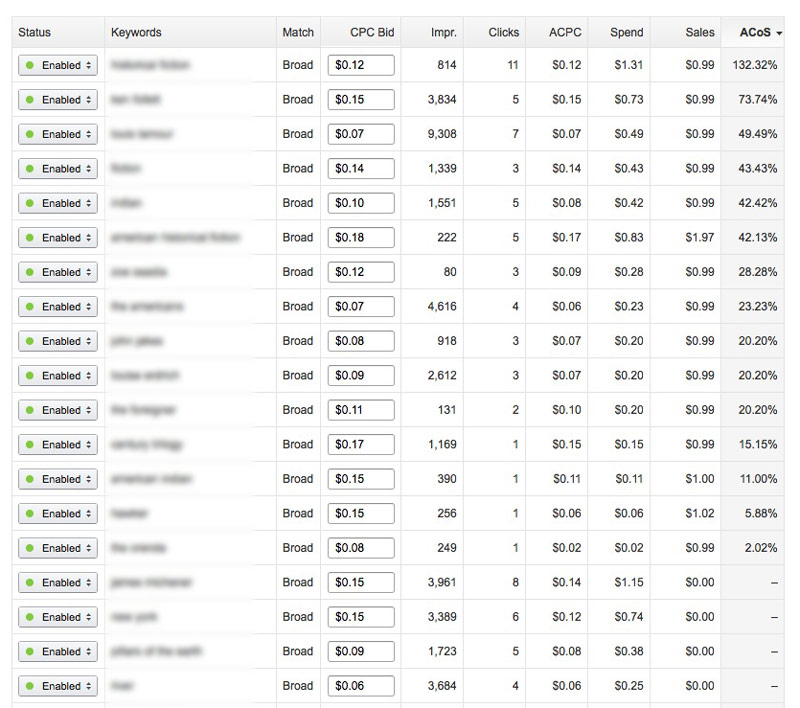 ABOVE (partial view): "1609" - Jan 20 - 14 days in
* ROI:
The Return on Investment for the AMS ads is more complicated than it seems. For me, it's not an obvious: "So, did the ad campaign have an ACoS that's under the royalty rate of the book?" In theory, if you're over the ACoS, you're losing money. But that's just a surface view of the situation (to me). Why? Because there are follow-on benefits that enter the equation. Like:
1. KENP Reads in KU. Especially with a $0.99 book, this is a significant % of revenue. And my Reads of Book 1 definitely went up when AMS ads started running (see chart below). In fact, the Reads during the 14-day AMS period were more than 7 TIMES (754%) the Reads in the 14 days prior to the ad starting. Or, put another way, that's an *additional* 76% of the revenue from Reads *after* the AMS ad starting running.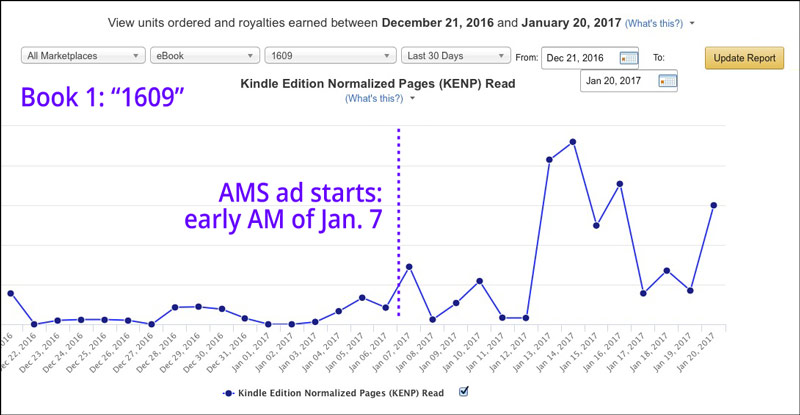 ABOVE: a 754% increase in Reads after AMS ad started running.
2. Sales Rank bump from KU "borrows" (did you know that a borrow counts as a sale?). And there are probably some additional "organic" sales from a higher Sales Rank.
3. Undefined increase in "visibility" when ads are running, and especially when showing up on Page 1 of Sponsored Products as mine did early. Again, more visibility *could* result in more sales. Hasn't really worked out that way when I relaunched "1612" with a price increased to $2.99. (NOTE: "1612" is selling at the higher price, but just not through AMS)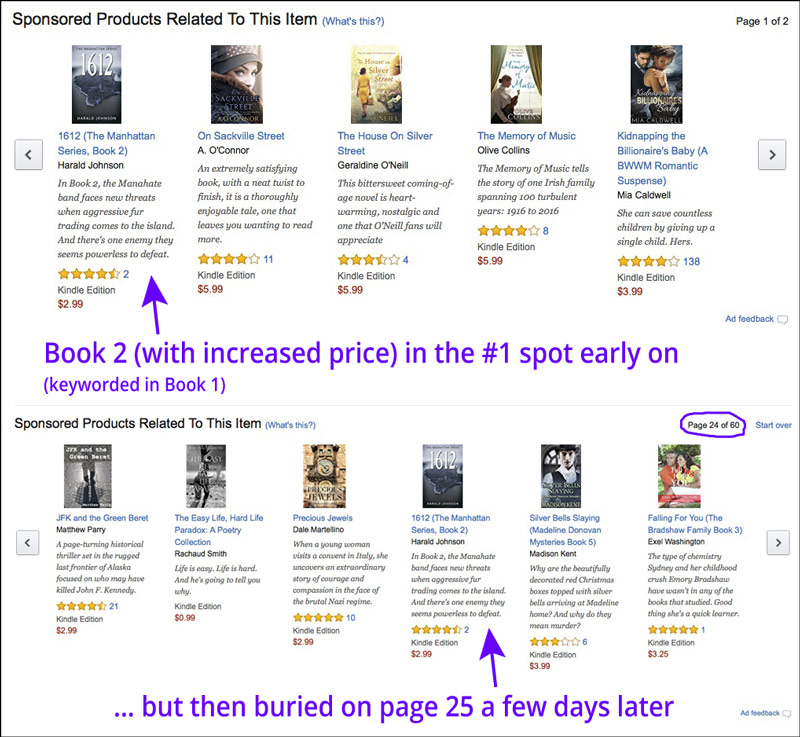 ABOVE: Book 2 appears on Sponsored pages of Book 1
4. NOTE that I'm not doing Audiobooks or print books (yet), which would add to the complexity--and richness--of the ROI.
* KWD Types:
For me (in my HF genre), besides the obvious content KWDs ("historical fiction"), the biggest Clickers and resulting Sales were the names of related authors. Not as much the book titles but the big or selling author names in my genre: James Michener, Ken Follett, et al. Which tells me that readers are searching for both Content and Author relevance (and Relevance is what the AMS ad system is mostly about).
My Current KWD Bid Strategy:
-- If a KWD's ACoS is under the book's royalty % *and selling*, I'll raise the bid slightly (1-3 cents) to see if I can pick up some more sales. If it's an author that seems a perfect fit and *should* be selling more, I'll go up a little more to give her more of a better shot.
-- If a KWD's ACoS is over the royalty % but under 100% (35% royalty) or 140% (70% royalty), I'll match the ACPC. Unless it's a category or an author who's perfect and then I'll increase the bid 1-3 cents more.
-- If a KWD's ACoS is over the 100% or 140% (only one instance so far), I'll start dropping the bid and watching closely.
-- I'll be updating these "rules" over time as I learn more. If anyone wants to submit their own formulas or rules about this, feel free to chime in.
THE BOTTOM LINE:
With a current 84% overall ACoS on my $0.99 Book 1 of the novella series, I'm going to keep that AMS campaign running. However, I may tweak the copy, which means submitting a new ad and starting my tracking all over again. Book 2, with a current 237% campaign ACoS is not doing nearly as well (although still selling + KENP reading outside of AMS). I may pause it, or I may just let it run as the Spend is not costing me much. Maybe best to keep an eye on Book 2 while Book 3 in the series soon launches, then revisit.
3/18/17 UPDATE: Paused this campaign after 2 months and getting the overall ACoS down to 52.20%; rebooted campaign with different Bid strategy for a week, then rebooted that (for a blurb change); see more below.
How much trouble is all this? Not really that much. For me, while it did take time at the start to understand and set it all up, I found that tracking and tweaking things--especially keywords and bids--is no trouble at all; just a few minutes a day. And it's actually kinda fun! It's now just part of my daily routine: check the dashboard each day to see what's changed and make adjustments accordingly. Try it! You may just get hooked. And sell some books in the process.
I hope this is helpful to others thinking about AMS ads.
P.S. Feel free to contribute your own findings, thoughts, or questions about AMS ads.