Discussion Starter
·
#1
·
Hello everyone, I would like to announce my first epublished novel,
Genesis Earth
. It is a coming of age story with spaceships, wormholes, first contact, and a touch of romance. From the book description:
=============================
Michael Anderson is a teenage planetologist haunted by the fear that he will never live up to the legacy of his astrophysicist parents. Terra Beck is the outcast child of a bitter divorce, who only wants to run away and immerse herself in her one true passion: astronomy. Raised on a distant space station by the scientists who constructed mankind's first artificial wormhole, neither has set foot on Earth.
When the scientists detect a mysterious signal from an Earthlike planet on the other side of the wormhole, Michael and Terra find themselves alone on an exploration mission to discover the signal's source. They no sooner arrive at the system, however, than a mysterious alien ghost ship appears out of nowhere and begins to hunt them down. Alone, twenty light years from the nearest human being, they must learn to open up and trust each other-but how can they do that when one or both of them may be insane?
As Michael struggles to keep the mission from falling apart, he is forced to reexamine his deepest, most unquestioned beliefs about the universe-and about what it means to be human.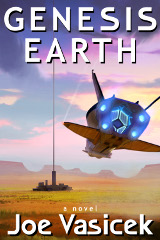 Genesis Earth
was a quarter finalist for the 2011 Amazon Breakthrough Novel Award, and a short story based on an excerpt from the novel won first place in the 2009 Mayhew Short Story Contest at BYU.
If you are a book blogger and would like to review this book, please PM me with your email and a link to your blog and I'll send you a free copy. You can also follow my writing blog,
One Thousand and One Parsecs
, or find me on
facebook
and
twitter
.
Thanks! I hope you enjoy my book, and I'll see you around!