Discussion Starter
·
#1
·
Bartlett Ferguson:
4 Generation Family Predator
By Brooks W. Wilson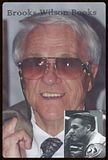 Bart Ferguson was born in Stillwater Oklahoma to a dysfunctional family. His father was a drunk and abandoned the family when Bart was young. He was bright but had to leave school early.
He was caught molesting his young cousins and forced to leave home. He was bright but remained uneducated. He was a gifted mechanic with a good head for business but ignorant. He professed knowledge he didn't have. He located his divorced sister, Olivia, in California and along with his two nieces they became a family. Once again, his sex perversion got him in trouble. Livie discovered he had molested her daughter by manipulating her vagina with his finger. Livie moved out of Bart's home and remarried. Her new husband learned of Bart's molesting his new step daughter, Bart's own niece, and forced him to leave the area.
Bart ended up in the army where he did well. His skills as a mechanic gave him a part time business and made him popular with the officers. He married a young divorced mother. She caught Bart sexually abusing her daughter while bathing her and beat him unconscious with a hand mirror. He was cashiered from the army without prosecution. He returned to California and set up a successful auto repair shop in Gardena. While there he met a young woman with two pre-teen daughters. Their father had been killed in the war. It was a situation made to order for Bart; a beautiful wife and two new victims.
Bart and Connie were married and he wasted no time attacking his two new step daughters. Mary, the younger, resisted verbally; Nancy was totally intimidated and was abused for years until leaving home and marrying. Mary married a young man who had been in the army; he immediately clashed with Bart. Bart continued his criminal rampage on his family for years, victimizing Nancy's daughter, two of Mary daughters, and his own blood granddaughter.
He was eventually exposed and his exposure led to a schism in the family. Nancy's family chose to marginalize and even forgive Bart's crimes in hopes of inheriting his money. After Bart's death, Nancy was prosecuted for forging Bart's signature on a check. She pled guilty and received probation. Bart died in disgrace and virtually friendless but still defended by part of the family.
Kindle Review
5.0 out of 5 stars A tragic, disturbing and important book--, March 11, 2013
By
Akamai Okole (Santa Monica, CA, USA) - See all my reviews
Amazon Verified Purchase(What's this?)
This review is from: Bartlett Ferguson (Kindle Edition)
Stories of child molestation are, sadly, abundant in our world. What makes "Bartlett Ferguson" stand out is that it depicts how insidious the phenomenon can be. It also depicts how difficult it can be to identify what is happening, because of the diabolical caginess of many perpetrators, their ability to make their victims unwilling accomplices in their horrific acts, and the lengths to which some families will go to ignore or deny what they know is happening. It is in these nuances that the author, a former law enforcement officer, provides a very detailed guide, if you will, on the kinds of conduct that should cause warning lights to flash when people encounter them in their families--the "too kind" uncle, the grandfather who always wants to babysit the kids, especially the very young ones, the sexual distance or difficulties of children who have been molested as they mature. This is far more sophisticated an examination of the phenomenon than one normally sees, certainly in any of what currently passes for news. And the most horrible part of the book is that the perpetrator lived a long and successful life, and was never really made to pay for his crimes except by minor ostracism from some parts of his extended family, a family his actions and deceit turned against itself. Showing, of course, that these predators do damage both physical and psychological, the endures even past their own miserable lives. Not an easy book to read, but an essential one.
https://www.createspace.com/4177481