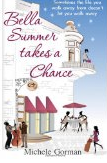 Hi everyone, I'm very pleased to announce the global launch of my new book, BELLA SUMMER TAKES A CHANCE. If you've ever looked at your life and wondered whether THIS is all there is, I think you'll enjoy this empowering tale about grasping life with both hands!
And I'm very happy to inscribe the eBook for you through
http://www.authorgraph.com/authors/expatdiaries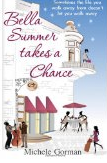 Bella Summer Takes A Chance

When is enough not enough?
Bella's career and relationship are her life's foundationwear: not glamorous and perhaps a bit binding, but supportive enough... until she realizes that they are not enough. Her life is sagging badly. She's never been in love with her boyfriend, despite a decade together. And somehow she stopped being a musician-with-a-day-job and became a consultant-who-was-musical. So she takes a terrifying leap of faith, leaving her relationship and resolving to follow her musical dreams no matter what.
But the life you walk away from doesn't always let you walk away.
With a wonderfully warm and witty cast of friends, all navigating between their ideals and the realities they face, together they'll find out what love and compromise really mean.
REVIEWS
"Witty, well-written and next to impossible to put down, Bella Summer Takes a Chance is a must-read in my opinion."
-The Book Chick
"The quirky characters, easy reading, and flowing storyline were all exactly what I was hoping for. I would recommend any of her books."
-A Novel Review
"Bella Summer Takes a Chance is, for lack of a better comparison, a grown up version of "chick-lit." The characters, especially Bella, are fun and enjoyable, but are based on a degree of reality and maturing that ensures the story stays believable and focused."
-Vine Voice