Discussion Starter
·
#1
·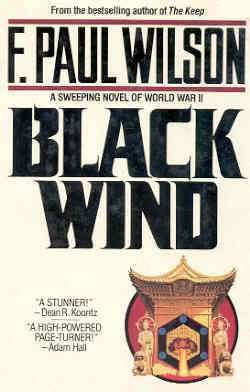 Those of you who bother to read any of my posts on the book boards already know that I am a fan of
F. Paul Wilson
. His novel
The Tomb
rest solidly in my list of my favorite novels of all time. I am a rabid fan of both his incredible
Adversary Cycle
books and his ongoing
Repairman Jack
series. So I was thrilled to get, as a Christmas present, a pristine DTB copy of Wilson's "great lost novel" as a Christmas present.
It was a mixed Christmas blessing.
Black Wind
is first and foremost a saga. In the span of 400 pages, it tells the story of a love quadrangle and two different family epics that become of paramount importance during the build up to the war against Japan in WWII. The majority of the book involves two Japanese brothers, and the woman (Meiko) one loves and the other desires. The elder brother (Hiroki) to whom Meiko is betrothed devotes himself to ancient Japanese rites, prophecies, and visions of eventual glory for Japan. The younger brother (Matsuo) wins Meiko's heart with his simple decency and honor. But he cannot disgrace his family by loving his brother's betrothed… until he does.
On the other side of the Pacific, there is Frank, Matsuo's childhood friend who grew up with him and loved him like a brother, but abandoned Matsuo in a moment of need.
Before the novel is over, poor Meiko marries two of her three suitors and earns the undying enmity of one of them.
Classic Prime-time soap a la
Dynasty
, eh?
What saves the book and keeps it a page-turner is that we are given real facts and real-life characters during the build-up to the American involvement in WWII. We are AT Pearl Harbor with Frank, knowing as readers that the Zeroes are coming and hoping Frank will get off base before they get there. We are AT the firebombing of Tokyo with Matsuo and Meiko, praying they will be among the lucky survivors. We know what is going to happen and we hold out hope for our flawed heroes and heroine. Wilson shows us actual history playing out through the eyes of his characters in a gripping manner. I'll add that his novel was incredibly well researched in its historical accuracy. Even Wilson's more fictional-sounding "facts" and theories presented about how the American government itself was responsible for "inviting" a Japanese attack have since been at least partially validated and authenticated.
Interspersed, and more important at the end, is a supernatural element to the story. There is a monastic Shinto cult that has powers of prescience and gains control over all of Japan. They find a way of conjuring up the "Black Wind" of the title.. a deadly force that will destroy America. That is, if is weren't for these chosen few intertwined people who keep alternately mucking up and fulfilling Divine Will and predestination.
I liked this book. I read it in two days.
And I consider it among the lesser of the F. Paul Wilson books I've read.
It was well constructed, though his continual shifting-of-perspective got annoying and clumsy at times. If you are a history buff at all, it kept you glued to the page to see how he'd present the next historical fact or personage.
It's better than
From Here to Eternity
And it is utterly and completely humorless. And herein lays my great problem with the book. Having kind of "backward discovered" Wilson, I came to love him as an accomplished master of mixing horror, science fiction, action, bloodshed, more horror, and
humor
(humor black as the Ace of Spades) in equal measure. There is not one single laugh or smile in
Black Wind
. When you aren't cringing at the melodrama of the interweaving storylines, you are forced to witness the wartime atrocities and deceptions of both the Japanese and the Americans during WWII in brutal close-up.
Pretty good family saga. Eventually pointless supernatural elements. Good insights into WWII. Good action sequences. Nice use of our own foreknowledge to keep us turning pages. Completely humorless.
7/10