Discussion Starter
·
#1
·
This is for
The Machine God
, part of a shared universe project that actually started here in the WC. Four (originally five) writers, one universe, four standalone novels. This one is mine:
Once upon a time, I built myself a god...
Professor Oladel Adewole has lost tenure, and the beloved, much-younger sister he's raised has died. With no reason to stay, he leaves his homeland for the University of Eisenstadt.
One thing makes life there bearable: the island floating a mile above the city. Adewole is an expert in the myths told all over the world about the island, but no one's ever been there, nor knows how it got there.
When a brilliant engineer makes it to the island in her new invention, the government sends Adewole up with its first survey team. The expedition finds civilization, and Adewole finds a powerful, forbidden fusion of magic and metal: the Machine God.
The government wants it. So does a sociopath bent on ruling Eisenstadt. But when Adewole discovers who the mechanical creature is--and what it can do--he risks his heart and his life to protect the Machine God from the world, and the world from the Machine God.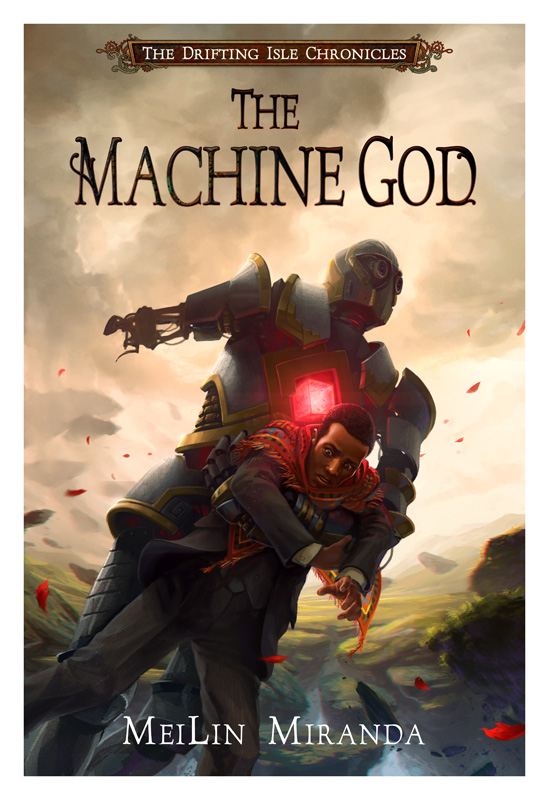 The other three novels are
Black Mercury
(Charlotte E. English),
The Kaiser Affair
(Joseph Robert Lewis) and
Starcaster
(Kat Parrish). More novels and short stories are planned for this shared universe.