Discussion Starter
·
#1
·
Hey gang.. we all know that NONE of us have enough accessories for the Kindle
I was at Macy's today and I found a great bag by Gianibernini. I have had their bags before.. great super soft leather and gorgeous textures.
This bag is a pearlized oyster color, sorry but my cell phone can only do so much but it is the PERFECT Kindle size.. I also included a photo with the straps since it is a body lengthy strap (if you want to cross over ).. LOTS of room but compact and the size could not be any better. The front pocket is terrific for adding all kinds of things.
It was priced at 85.00.. on sale for 50.00 if you use your Macy's charge this weekend it was another 20% off and I had a discount coupon as well and got it for 22.00 and some change when all was said and done.
Here are the photos.. again it does not do it justice and its perfect for the oberon or Medge covers
Also the strap photo has my dog Bijoux.. sorry about that. LOL.. Everytime I pointed the camera he decided he had to be in the picture so I gave up and let him be his ham like self.. (the puppy wanted nothing to do with it)
Also they have a bunch of great colors but I liked this one because it goes with alot of stuff for summer.
Macy's all over carries this line.... just an FYI if you are looking for something like this.
(how sad is it I am shopping wondering.. "is this kindle shaped"?)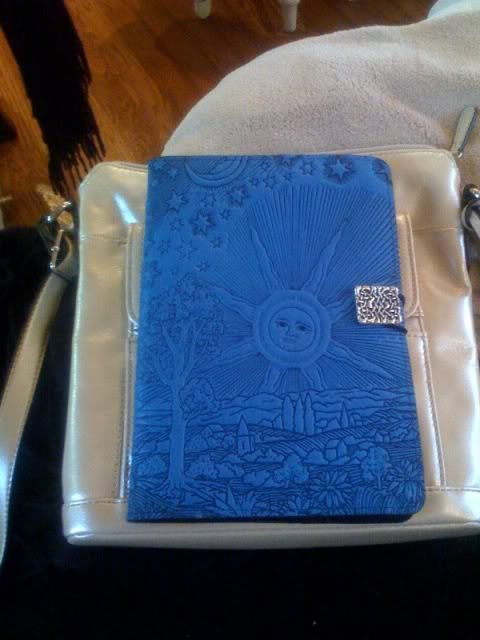 Front Pocket Open
Kindle tucked in the oberon case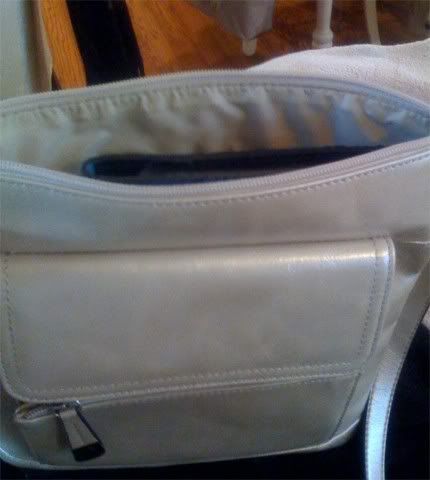 Long strap and camera happy dog