Discussion Starter
·
#1
·
I thought I had things nailed down with the cover and title, but you guys pointed out I didn't.
This was the cover and title.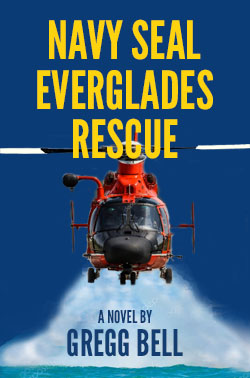 Feedback was the cover was amateurish and non-fiction-looking. The general notion was the cover was about a team of Navy SEALs in a chopper sent to rescue someone. And that is
not
what was happening in my story. In my story, that is a Coast Guard helicopter hunting down my protagonists (
former
Navy SEALs).
What I was
trying
to do was use the Navy SEAL colors (navy and gold) and "Navy SEAL" in the title to appeal to readers interested in Navy SEALs. I justified/rationalized the cover in that it reflected a scene from the book.
I feel my blurb
does
convey the real story of the book. Here it is.
The US president's seven-year-old nephew has been kidnapped. The nation is horrified, but the crime turns out to be just the break that disgraced former Navy SEALs Shelby Ryder and Earl Bernstein need. If they're able to rescue the boy, who's being held somewhere in the Florida Everglades, the president assures them he'll restore their SEAL trident pins. But something's not right. The president could send massive forces for the boy, but instead he's sending
them
. Support people don't show. Others won't reveal their real names. Many seem more mercenary than military. Shelby and Earl are suspicious, but they're desperate to be SEALs again, and there's a boy out there in need of rescue. And so, into the depths of the humid, alligator-infested Everglades they go, to start a mission they were never intended to survive.
And here's the story in my own words. My protagonists, two former SEALs, have been unjustly kicked out of the Navy (and thereby losing their SEAL trident pins) for something they didn't do. (Still, they're crazy to be SEALs again.) So they have chips on their shoulders and serious doubts about the president's offer to give them their pins back if they succeed in rescuing his nephew. Those doubts only increase when they get to the Everglades and find a lack of support, and they start receiving misleading intel from Washington. Little by little it becomes increasing likely that the kidnapping is a hoax to prop up the president's sagging poll numbers because he's been accused of breaking the law and is on the verge of being impeached. When an airboat they were supposed to be on explodes, they're sure the president is trying to kill them. Nevertheless, they manage to rescue the boy and now they're on the run from the government.
It's a good story. Twisty. But here's the deal--I am not a vet and have no specialized military knowledge. I have had some military people advise me and a friend who is a gun buff has helped with weapon details. But like a reviewer said of an author of a military thriller:
The author has used his considerable (and specialized) military knowledge to...
I am not that author and cannot compete with those writers with such knowledge. Still, the book
is
a thriller. But what kind of thriller? What genre would a book like this be?
And what sort of a theme would it have on the cover?
What sort of title?
I know it sounds like I'm asking you to do my work, but with this book I feel overmatched, and I'm looking for any kind of direction to get me started in nailing it down. Thanks.