Discussion Starter
·
#1
·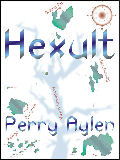 Hexult is a book for Young adults (and not so young adults)
It is officially a science fiction book, but reads more as an adventure book
This is my first book, it was only six months in the writing, but over three years in the editing! But still not a bad achievemernt for someone who attempted his English exams five times before he passed.
Here is the blurb:
When the seas rose and the world froze, much knowledge was lost.

Mysterious twins, Jacob and Elya, shipwrecked in Hexult, discover their superior understanding of science is mistaken for magic by the superstitious islanders.

With the aid of Aulf the mailman and his fiery crewmate, Ingar, the twins must overcome terrible tragedy and danger, to save their reputations and their lives.
The book is available on
Amazon.com
or
Amazon.co.uk
or
Smashwords:
I would love to have some feedback, even if you download the free sample and decide not to to buy the full book, I would love to know why.