Discussion Starter
•
#1
•
I'm writing an over-the-top farce about the Navy SEALs that--hopefully--is fun. (Think the old TV show "McHale's Navy" or the movie "Stripes.") The first two covers (they're in my signature) reflect actual incidents (although certainly not the main gist of either story) in the books. Coming up with the third cover I've struggled with having something that's funny but also reflects the book at least somewhat.
For instance, this cover is reflective of the story. (Many scenes take place in an abandoned mine shaft in the Arizona mountains.There's a brutally hot sun that almost kills my characters and all kinds of funky, mystical--think ghosts--stuff happens in the mine shaft while they're there.) But the cover's not funny. Perhaps the title and tag lines convey some humor, but that's it.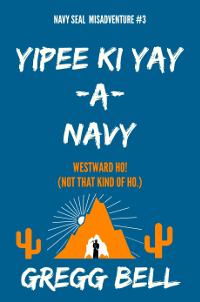 It would be a stretch to say the next cover applies to the storyline. Yes, somebody pointing a gun at somebody happens several times, but the bomb is nowhere in the book. But the cover is at least a little funny.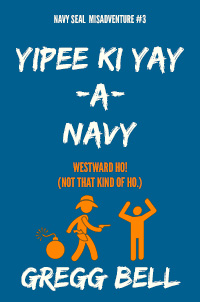 And here's the third, which is my favorite, and I think anyway, the funniest of the three. And yet there is no bomb again and no duel.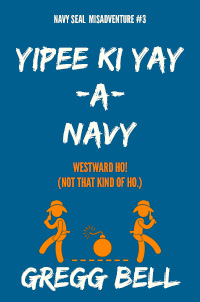 I sent the last two books to my newsletter and they liked the dueling one best. Only one person asked 'What's up with the bomb?" Of course, the bomb doesn't even make any sense on the cover, except it is funny in that they're pacing off concerned about each other while they're unconcerned about the bomb which will blow both of them up.
I'm not sure about this and that's why I'm asking you guys, but my hunch is that my readers won't much care that the covers do not accurately reflect the story. (There is the western theme with "Yipee Ki Yay" and the "Westward Ho!" in the tagline.) My concern is that readers will see the first cover (or something like it) and yawn. I'm after funny. So considering all the concerns I've brought up in the message, does one of those last two covers work? Or perhaps the first cover (combined with the title and tag line) is light-hearted enough to be considered humorous? Or do I go back to square one and come up with something funny that reflects the storyline more accurately?
Thanks.