Discussion Starter
·
#1
·
March 27th is my 2nd birthday as an indie writer!
I started with this book and sold 27 copies my first month. This book started it's life on the traditional path. I had a hot shot NY agent (not my current agent) and the book was on submission. I ended up pulling it and walking away about 10 days later. Best decision of my life. I would have happily taken $30K for that book. I earned so much more than that from this series. Plus they wanted to make it into Percy Jackson meets Twilight. Ick. Ick. Ick. Short version, I took my ball and went home. Best decision I ever made.
To date, the DEMON KISSED series has sold over 25,000 copies and was my bread and butter until last summer when I started writing romance.
My first romance book ever - Scandalous hit the NYT and USA today bestseller list in Jan after sleeping for nearly 9 months. It was so weird. My fanbase was largely YA PNR, so when I started with romance I pretty much had to start over.
I was shocked this book did that well. And a little embarrassed. Talk about writing your heart on your sleeve. Hee hee. SCANDALOUS getting so much attention really helped my other romance titles gain some momentum.
At the same time SCANDALOUS hit the bestseller list, I released the first book in a new serial THE ARRANGEMENT. I almost didn't write it. I mentioned it to my editor and got a raised eyebrow. I felt silly and back burner-ed it until Jan. I'm about to hit another milestone with this series. It's been out for about 10 weeks and is creeping up on 100,000 copies sold. It'll hit that mark by the end of the month.
If you've seen my posts, you know I was in shock that I sold 100,000 books this Jan. It took nearly 2 years to hit that goal. It's ten weeks later! And ppl bought another 100,000! It's the coolest thing ever! I have a new agent that gets me, sold some foreign rights, and have a new novel coming out next month. It's been a wild ride. It seemed like once I hit the point where I could quit my day job (I owned a swank photography studio - I shot the covers for the Demon Kissed and Bane series) that things really picked up momentum. I feel like a runaway train right now. I keep waiting to hit a wall, but so far so good. I've had my heart in my throat since Jan.
I just wanted to post this b/c its mind blowingly amazing. I NEVER ever thought I'd sell that many books. I thought if I busted my ass, maybe 8K? Yeah, I had no idea what I was getting into. Things I learned - its hard work, time consuming, and you need more than one book. Like the more the better. The title that hit the top of the list helped push new readers toward my other books. Those other titles made it possible for me to earn a really good living from this. My hero (can I say that ?) is Konrath. I remember reading his blog right before I pulled my MS. I was in the hospital with a pregnancy that was going horribly. I spent the past two years chronically ill. The baby was born and is fat and healthy. Check out the pudge. He's 18 months now. I can't get him to sit still for pictures to save my life.
Sensitive content, not recommended for those under 18
Show Content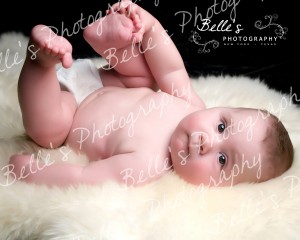 Anyway, I used Joe as a benchmark/ goal for total sales for the past few years. I kept hoping to sell as much as him. I watched what he did, what worked, what didn't. I read so much stuff, tried things that worked, tried things that didn't. (Last march I tanked my sales. That was fun.) Anyway, this month I passed Joe's sales stats! Whoop! Whoop! Talk about thing that I never thought would happen. Like ever.
To date I have 30 titles ranging in price from 99 cents to $4.99. Free didn't work for me. Total fans combined are around 70K (FB, Twitter, email list, blog followers, GR, etc). I've been doing giveaways, but switched to SASEs b/c there were too many ppl requesting and it took over a day to send everything out. The PO Box is full, but the coolest thing is that these ppl are sending me hand written letters! They're stuffed in the envelopes.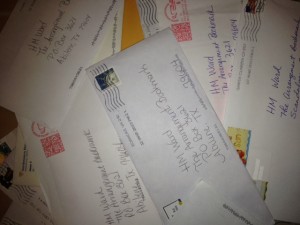 The first time I opened one and saw a letter, I nearly cried. Since then, I've gotten tons of hand written notes. Some of them are pages long, thanking me for writing, telling me how my books touched their lives and helped them through some tough times.
Can I say OMG? OMG! I did the SASE to save time. I ended up writing every single one of them a letter back. I can't not answer them, not when they're writing stuff like that.
Anyway, I just wanted to share. I finally found a good niche for me, a job I'm good at, and the perfect place for an introvert.
Chubs is crying. TTYL