Discussion Starter
·
#1
·
My computer virus journey started last weekend. I started getting popups while in the Internet Explorer that warned of computer threat. I thought it was my virus protection and like an idiot clicked on the continue button after it kept coming up everytime I clicked on a link. I also had this icon in my systray at the bottom right of my screen. When you click on it a Window pops up wanting you to buy the protection. I didn't do it, but it was already to late for my computer. I spent hours with my virus protection help and with Dell support, but nothing got rid of it and I can no longer use my laptop. I now have to completely reformat it to get rid of the virus.The title of the virus is
Spyware Protect 2009
and it is part of the Conficter virus that steals user ids and user passwords. Once it is on your computer it takes over the internet explorer and when you search for it, it will take you to websites for removing it. They are bogus and if you download the removal it then installs the Conficter virus completely. My company is also seeing this problem on our work laptops and our IT department sent out the warning at the bottom of this message.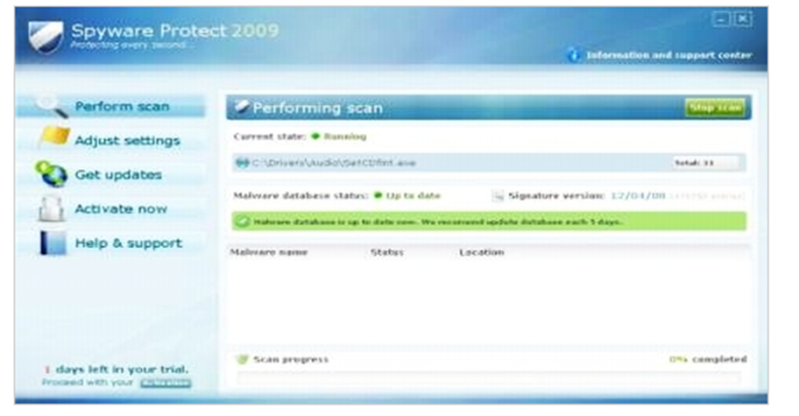 Here is the email from my IT department:
A recent development regarding the Conficker virus has been detected, where it is now directing infected machines to download new, harmful files, thus activating the botnet. Here's how this new behavior works:
Conficker sends out email spam without your knowledge. In addition, Conficker uses pop-ups to warn of PC infection and offers fake antivirus software, called 'SpywareProtect2009' at a price of $49.95. If purchased, credit card information is stolen and the virus downloads even more malicious software.
If you encounter a pop-up like this, do not click on the pop-up at all - not even to close the box. To remove the pop-up without infection, open your Task Manager (Ctrl+Alt+Delete), and close your Browser in the list of Applications (Explorer, Firefox, etc.). You should take additional precautions to ensure you are not already infected and have adequate protection.