Time Unwanted now on Amazon!
Hi Everyone!
Very grateful to be here.
I am a self-published author. My Novel "Time Unwanted," is now on Amazon Kindle!
"A curse. A supernatural untameable power. A young man's emotions will determine who will live and who will die."
In the sleepy town of Edom, North Carolina, life is simple, quiet, and uneventful. That is until Helen decides she must do whatever it takes to live the life she feels she has always deserved. That single decision will trace a path for her and her son Michael putting them later at dangerous crossroads.
What will he do when she finally tells him the truth?
Time Unwanted will explore our human obsession with aging, time, and the hidden strength of human emotions.
Time Unwanted - Kindle edition by Betancourt, Isaac. Mystery, Thriller & Suspense Kindle eBooks @ Amazon.com.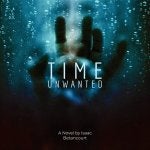 "This book is a little hidden gem."
JR

"A riveting page-turner."
AC