Discussion Starter
·
#1
·
I just received this email from M-Edge:
Dear M-Edge Customer,
We know many of you are excited to hear about our new 2nd generation e-Luminator. Well, get excited -- it's almost here!!
We've worked hard to make this product even better than our first e-Luminator. Based on your comments and suggestions, we have redesigned the 2nd generation e-Luminator to include the following features:
* "Super bright" LED light that operates at two brightness settings
* Optical grade lens provides smooth lighting
* Rotating support arm allows users to position the light from the side or top
(see picture below)
* Compatible with M-Edge Prodigy, Executive and Platform Jackets for Kindle 2
(as well as some new surprise Kindle 2 products coming soon!)
* Also, compatible with our Kindle 1 Executive jackets
* Requires only one AAA battery which provides more than 20 hours of use
Here's a sneak peek at our new and improved M-Edge e-Luminator 2: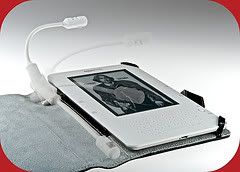 The e-Luminator will be available for pre-order on May 26. As a thank you for our customers' patience with the release of this new light, we will be offering a special limited time promotional discount code for your M-Edge e-Luminator 2 purchase. Please keep an eye on your e-mail inbox for this upcoming eNewsletter with discount code!
*Please note: : We expect to begin shipping all e-Luminators in mid-June. We will fill all preorders as soon as possible in the order they were received.