Discussion Starter
·
#1
·
Now on Amazon -
Ettie's Guide To De-Nesting How To Help Your Grown Children Move Out
Help Is Here For Parents of Boomerang Kids - Ettie's Guide To De-Nesting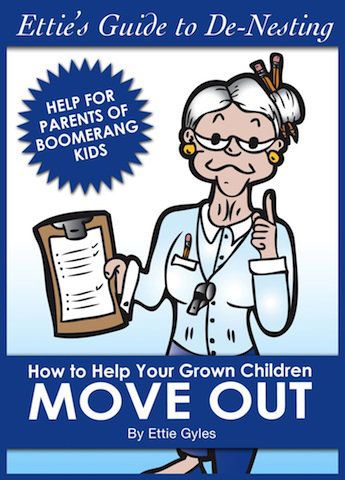 "Your kids can still shoot for the stars.
They just have to build their own rocket." - Ettie G

About ETTIE'S GUIDE
With a staggering number of young adults returning home to live with Mom & Dad, many parents are now struggling to help their grown child find independence. As parents, we love our kids - but they can't stay around forever. 'How to Help Your Grown Children Move Out: Ettie's Guide to De-Nesting' was written to offer practical insights for parents looking to make a positive change.
Ettie's Guide addresses the growing trend of boomerang kids: grown children still living at home. This has rapidly become a common and widespread pattern. According to a 2012 Pew Research Poll, 13% of parents with grown children report at least one of them currently living back at home. In some areas, more then 50% of college graduates move directly back home. The same trend has also been widely seen in Canada, Australia and throughout much of Europe.
Many of these young adults return home directly from college, some with a diploma, many without. Others venture into self-reliance, but then lacking a financial foundation, eventually return back to the nest. Some simply never make it out in the first place.
No matter the circumstances, a solution must be found.
Helping your 're-nester' find not just a way out, but the right way out, can be a critical factor for years to come - for both parents and child alike. The goal here is to get it right the first time - if this is indeed your first time. That's why it's all about the plan. As Ettie says, 'You wouldn't just start stapling Christmas lights to your house without a finished product in mind. Why plan this less?'
Ettie's Guide offers a lighthearted look at the trend, but with a serious approach toward action. Her plan breaks down a specific timeframe of important milestones, all to gear up for the big move. It also addresses many of the common stumbling blocks that can derail the effort, both before the departure and after.
You already know what you want to see: your child living happily, independently, and elsewhere. The plan you put into action should prepare your young one to spread their wings wide, and hopefully remember to phone once in a while.
Ettie can help with that.