Discussion Starter
·
#1
·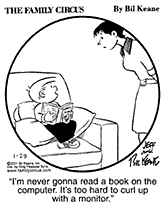 First of all Kindle is the BEST!! I bought my first electronic book in 2001. It was the RCA 1100. I paid $299 for it but don't remember what I paid for the books. In one of the articles below it says there were only 4,000 titles available. I saw it and bought it at Circuit City. The 1100 was heavier than the Kindle and a slow download connection through the telephone wire. The one good thing was a screen keyboard and you used a stylus to type on the keyboard. Also no matter the size of the font I think the pages renumbered and I didn't have to deal with page locations.
I copied web links to articles on the RCA 1100 with some of what the article is about and have listed those below. One of the links is to an article about Oprah giving them to her audience and endorsing the RCA EBook.
http://www.planetebook.com/mainpage.asp?webpageid=15&TBToolID=1067
The REB 1100 gives new meaning to the term "light reading." About the size of a paperback book, and weighing about 1 pound, the REB 1100 provides a reading experience just as good as a traditional book, but with powerful electronic features such as a built-in dictionary, word search, and touch screen for notes, highlighting and bookmarks. The Gemstar eBook™ is all about being simple and convenient. You can turn pages, change the text orientation, enlarge the font size and turn on a back light for the screen just by pushing a button.
REB 1100 $299
Specifications
Weight: 17 ounces
8MB (enough for about 20 books) upgradeable with SmartMedia™ cards (8MB - 72MB) so it can hold several hundred books
Battery: rechargeable Lithium-Ion internal batteries capable of 15 hours with the back-light on and 35 hours with the back-light off
Back lit (4.75" x 3") Monochrome STN LCD Touch screen
Communications: internal V.34+, 33.6K modem, USB port for PC connection, Infrared port (IrDA 1.0)
REB 1200 Color Screen $699
http://www.wired.com/culture/lifestyle/news/2000/11/40291
Oprah Gives A-OK to E-Books
M.J. Rose 11.21.00
How much influence does Oprah Winfrey have? The electronic book industry can't wait to find out.
By featuring the REB1100 on her Nov. 17 TV show, Oprah might have done more for e-books in a matter of minutes than all the publicity about Stephen King's e-book has garnered combined.
http://www.usaweekend.com/01_issues/010715/010715techsmart.html
E-books: Hot or not?
Summer reading loaded, off I strolled into sand, surf and the strange new world of electronic literature.
I'm a married man. But I have another relationship -- one outside my marriage that predates it. I couldn't hide it, even if I wanted to. The evidence is all over my house, even in our bedroom. Thank goodness, my wife understands.
I have a love affair with books. In fact, my wife's a bookworm, too.
Contributing Editor Jim Louderback is editor of TechTV
http://www.libraryjournal.com/article/CA213862.html
E-Books Go to College
A survey of students in two college courses grades e-book devices and their function in higher education
By Lori Bell, Virginia McCoy and Tom Peters -- Library Journal, 5/1/2002
http://news.cnet.com/2100-1023-256938.html
May 2, 2001 5:30 PM PDT
E-book devices yet to hit bestseller's list
By Gwendolyn Mariano
Staff Writer, CNET News
He added the company now offers 4,000 titles with its REB1100 and REB1200 e-book devices.