Discussion Starter
·
#1
·
You know, I am a bit annoyed with oberondesign.com and I say that with my beautiful
Tree of Life
in saddle cover in my hand!
I want another cover
. Badly. Problem is that their website has TERRIBLE pictures that do not show the true color of their cover...also, there are color choices for each cover yet, when you click on the dot to choose a color, there is no picture of the cover in the new color choice! I think that we, here on Kindleboards.com take better pictures of our Kindle cover than Oberon does! And mostly, our pics are taken with camera phones that turn out slightly blurry!!!
This is extremely important as people need to know exactly what they are getting as the prices are on the high side (for a genuine leather, hand made product! I am not knocking their prices.) and they have no return policy unless it is defective. Their pictures need to reflect the beauty of their product!
Example: when I saw Roof of Heaven was available in purple, I wasn't remotely interested as the purple looked blue on OberonDesign.com. Then, on this thread, someone posted their RoH cover in purple and it is freaking gorgeous!!!!
I wish Oberon would dedicate itself to post better pictures on it's website. But since they are not, I would like all of us here at Kindleboards to take a picture of which Oberon you have and post it here!
Me? I am looking for the Dragonfly in fern (I think? Or maybe green) and the Roof of Heaven in Purple.
I already own Tree of Life in saddle which I have had for 1.5 months now and ADORE! So to start things off, here is Sookie's cover....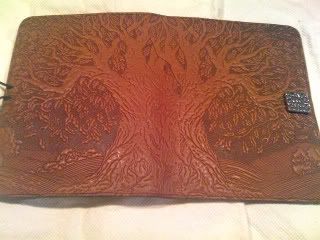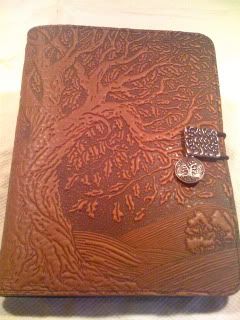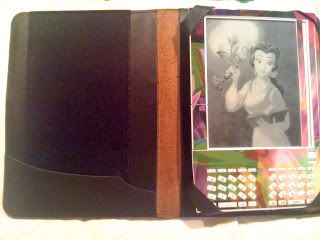 OK- now it is YOUR turn....POST YOUR COVERS HERE!!!
​