Discussion Starter
·
#1
·
I apologize for starting a second thread about this same book and same issue, but I think the question I'm asking warrants its own post.
According to the Amazon board:
texas nightowl said:

dang...now I'm more upset...according to some posts on smartbitchestrashybooks dot com, users of the Kindle 2 do not have the format problems with this book. Only K1 users have the problem! wtf?!
Here is a pic from the website quoted above, showing Promises of Death on a K1. It's their pic, not mine. I'm just rehosting it on my photobucket account not to add any strain to their servers.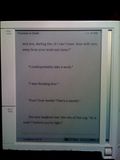 (Click thumbnail for full size)
So, my question is to K2 users: How is the formatting on Promises of Death. Does it look anything like THAT?
If K1 users are getting the short end of the stick, I'll be VERY upset.
If you're a K2 user, please download a sample (if you don't already own the book) and let us know how it looks. If you can take a pic of it for us somehow, that'd be even better.
Thanks.