Discussion Starter
·
#1
·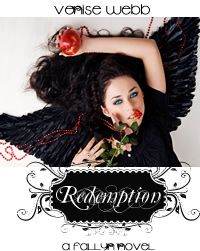 Synopsis:
Shayne
"I was just a normal guy from a normal family planted right dead smack in the middle of Normal Town, U.S.A."
Shayne Naughton's world has been turned upside down. His family and friends are acting weird. Strange men are following him or calling his cellphone in the middle of class. A magical purple-haired new kid is doing strange things to his classmates. And a gorgeous, redhead demon is out for his blood, thinking it is the key to unleashing her demon husband from Hell. He used to be just a normal guy until she showed up at his school and changed his world.
Fallyn
"As I fade away, in my last moments I have the tiniest bit of hope that I shall see my father's home once more. In that moment, I will know that I've been redeemed."
Fallyn Galen has made many, grave, mistakes over her lifetime. She's accepted her fate. All she wants to do is to make amends before her final punishment. But, then she's sent to Redemption, Massachusetts and the soul she didn't know she had connects with him. Now she is alive again and feeling things she's never felt. Shayne Naughton may just be the redemption she was looking for, if only she can keep him alive long enough for him to learn to love her for exactly who, and what, she is.
Redemption is Venise Webb's debut novel for the new Fallyn series. An epic battle is brewing between Heaven, Hell and Earth. Right there in the middle of it all is Fallyn and Shayne. Is their soul connection can be the key to protecting the world or the weapon to destroy it?
Available on Amazon:
Redemption (Fallyn)