Discussion Starter
·
#1
·
I was hesitant about ordering the black leather cover from Amazon for the Kindle 2. After all, the cover for the Kindle 1 was cheap, unattractive, and poorly designed. For the Kindle 2, I didn't want to pay $29.99 for another product of the same inferior quality. However, my Kindle 2 cover arrived yesterday with my new Kindle and I have to say, I am very impressed with this new version.
Let's start at the beginning. The cover comes packed in its own box, labeled "cover." You can order the cover in any color you want, as long as its black. The black leather is soft and lightly textured and has a nice subtle leather smell. The Amazon Kindle logo is small and unobtrusive although those who object to "logowear" probably won't like it.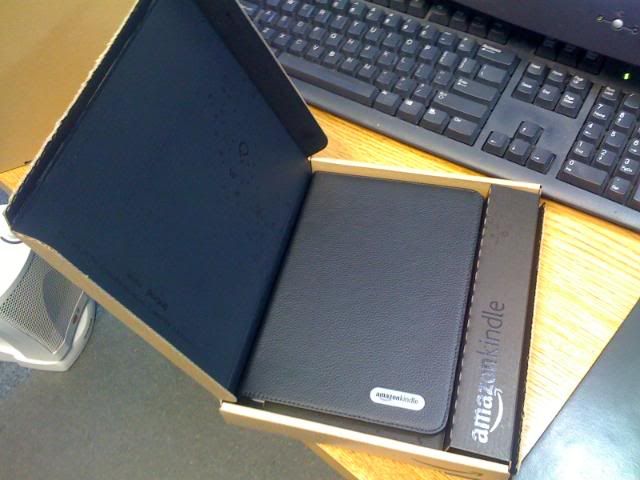 The inside lining is a smooth fabric. I'm not sure if it's suede or some sort of moleskin although my guess is the latter. The color is a very dark charcoal. The cover is padded, front and back. The cover weighs 6.25 ounces (empty) and 16.75 ounces with the Kindle inserted. It is 20 mm thick with the Kindle inside - that's about 3/4 to 7/8 inch (less than 1 inch).
The cover uses an innovative hinge system to secure the Kindle and it is light years ahead of its predecessor. Clearly, Amazon listened to customer complaints of the Kindle falling out its cover or the back falling off. With this new cover, there is no way that the Kindle will fall out, once it is locked into place. Here's a picture of how much "hang" it has when holding it suspended in the air.
The cover has a maximum "hang" of about 2 inches when suspended in the air.​
There are two hinges: the bottom one is a curved "hook" and the top one is an insertable slider. To attach the cover, first angle the Kindle on the hook, then slide it to be straight up, press against the slider and apply gentle pressure until it clicks into place. To remove, slide the hinge to disengage, pull the Kindle sideways, then slide off the hook. It couldn't be simpler. This photo shows the plastic sheet with instructions that came inside the cover. At first glance it looked confusing but once I "clicked" it once, it was a cinch. The design is simple, elegant, and intuitive. Good job, Amazon!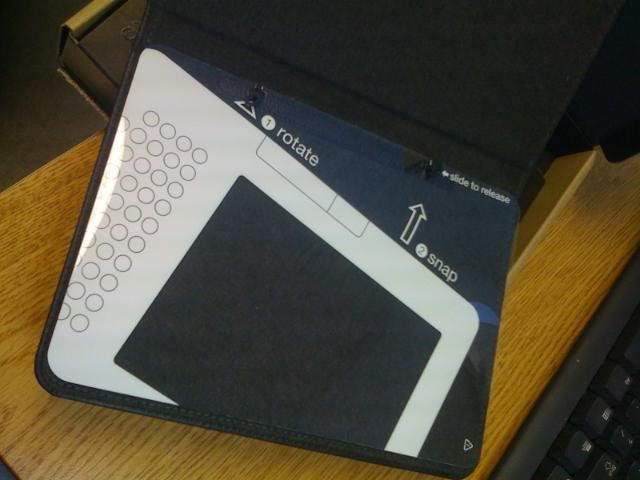 The instructions that come with the cover for how to use the hinges. This picture also shows the charcoal gray

interior.

​
The cover folds completely back for those who like to read holding it that way. When sitting on a table, the cover and Kindle are also flat; again, this is a difference from the Kindle 1 which was wedge-shaped and thus was always sitting at an angle, no matter which cover you were using.
The cover does not have a strap or loop to secure it closed. That might be a drawback for some but I don't really see it as a problem. And, like its predecessor, there is no pocket in the front, which may be a pro or con, depending on your point of view. Personally, I like the smooth feel and a pocket would have been an interruption. Some might disagree with me.
All in all, I am glad I bought this cover. I debated more than once about cancelling my order but knew I had to have something to protect my Kindle 2 until my Oberon "Roof of Heaven" (on order) cover arrived. While I haven't cancelled my Oberon order-yet-I am debating. That's how much I like this new Amazon cover. It is attractive, light, intelligently designed and provides secure protection for my Kindle. If only it came in a color other than black!

My grade: A

Amazon Kindle 2 Leather Cover
available from Amazon for $29.99