Discussion Starter
·
#1
·
This is a review of a long time Kindle Klassic (KK) owner and her first impressions of the new kindle2 (K2).
A little background: I received my KK on March 21, 2008 after a LONG 4 week wait because it was sold out. I was instantly hooked and the KK, Edgar, became my constant companion. It went everywhere with me and I found myself actually READING again. Prior to the Kindle, I listened to all of my books on my ipod.
On February 9, 2009, after watching the Amazon press conference, I decided I must have the new K2. I immediately sold my KK and settled in for the long 2 week wait for my new K2, Bella. Oh, the torture of not having a Kindle anymore after daily use. Luckily, I was able to bribe my daughter with a new Oberon cover and she gave me her KK to use for the last week.
Amazon was wonderful enough to ship the K2 a day early. Impatient person that I am, I had it sent to the nearest Mail Boxes Etc so that I could have it hours before it would be delivered to my home. I got the call at 12:21 that they had a package for me. Being the impatient person that I am, I was camped out in the parking lot across the street. I rushed over, paid him the $2 to get my box and ripped into it. I couldn't even restrain myself to take it home first.
The Box: It was not what I was expecting because Amazon set the bar pretty high with the first Kindle box. Well, it certainly wasn't as nice as the KK box, but it's pretty and much more environmentally friendly. I had a feeling Amazon would be going for a black theme this time around and I see I was correct. Someone said it was like opening a TV dinner and that's a very good description. The guy at the UPS store had to help me open the outer box; I just couldn't pull the tab hard enough.
My first impression right out of the box was, OH MY GAWD! I'm in love.
Size/Look: It's REALLY thin. When I ordered it, I was concerned it would be too thin to be comfortable for my smaller, arthritic hands, but it's not. It's perfect. It doesn't feel flimsy, it's nice and solid. It's also beautiful. I would have no problems carrying this around without a cover (except a case for protection). As a matter of fact, it fit quite nicely in the outer pocket (without the cover) in my Vera Bradley Lindsay Bag. No worries about the back falling off like I did with my KK. It makes the KK look clunky (even more so than I previously thought). I kind of feel funny saying this, but the K2 is sexy! I do need a DecalGirl skin. I've been using a skin for so long on my KK, that the white is very distracting to me. I think DecalGirl was given much more to work with this time around and their skins will look so much better on this K2.
Page turn buttons: They seem much more solid to me and they aren't too small. They're placed exactly where I would normally put my thumb when holding the Kindle anyway. I like that they turn in. It's much more difficult to accidentally press the pages, but not difficult at all to turn them intentionally. My fingers automatically go the right way. As a previous KK owner, the home back and menu buttons will take some getting used to though. There's nothing wrong with them, I just need to get used to the placement. Big improvement.
Page turn rate: Whoa! It's much faster. Sometimes, with my KK, I'd press the button several words before I was finished reading the page, with the K2, it's already refreshed before I can get my eyes to the top of the paper.
5-way: Ok this little thing is cool. When I'm on my home page and push it to the left, I can delete the book. We got that feature in the 1.2 update. No biggie...BUT, if I go to the RIGHT, I can see the whole title of the book and the cover. You've got all the info right there. Before, I used to download a bunch of stuff, and then I'd forget what the books were about. It was a pain to head into the Kindle Store and search for the book I needed info about. Now, in just a matter of a few clicks, it links me directly to the book page on the Kindle store so I can read the book description. LOVE this feature, very useful. (I do miss my silver bar, but DON'T miss the wheel)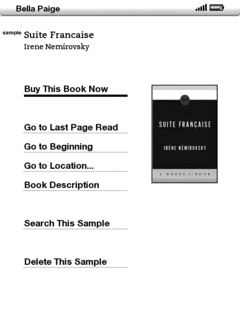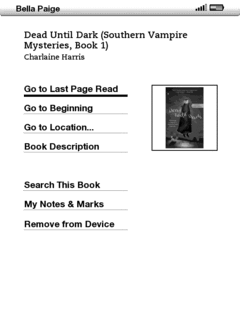 Screen: WOW! It is so much clearer. The difference in the screensavers is truly out of this world. There are several new screensavers, and the old ones look different because you can really see them (Oscar Wilde, sorry, he's no better, still freaky). The font used seems to be different and when comparing the two Kindles side by side, it's slightly noticeable that the K2 is a bit lighter. I doubt I would have noticed if I hadn't of put them next to each other. I noticed I'm actually able to read one font size smaller with my K2.
Keyboard: This will take a little getting used to. The buttons seem a little bit spaced out to me, but I think it's just because I'm so used to the ones on the KK. This will be part of the learning/getting used to curve...It's not that I don't like it...Just not sure about it yet. I'll get back to you.
Power switch/volume: I like the placement of the buttons. Having the power switch as the sleep button is nice. One handed operation for putting it to sleep. Being able to reset without taking a back cover out and looking for a paper clip (or earring) is very nice. The volume seems to go much louder than the KK.
Speakers: I don't know why some people are upset that they're on the back..They were on the back for the KK; they're just on the bottom this time. I think they're louder and improved over the KK.
Dictionary: You don't get all the words in the sentence on a separate page anymore. Just maneuver up to the word you want the definition for and you'll get a condensed definition at the bottom of the page. If you need more info, you can expand the screen.
Archive: Okay, I really like this feature as well. It's like having your book on Amazon like the KK, but, when you go in and click on the book, it automatically transfers it to the Kindle. (You get a screen that says opening&#8230
You don't have to click on anything to transfer it over. If Whispernet is off, it will ask you if you want to turn on Whispernet. I still have instant access to those books when I want them. I can see why they took out the SD card. I can't see me needing it. The archive is a much easier feature to use than the content manager. You can sort it by title or author, and if you press a letter, it will take you to that page of the alphabet. It would be useful if they had a feature that could mark the books read or unread though.
Text-to-speech: Well, I don't love it and I don't hate it. It's a neat feature, but I don't see myself using it. I guess it depends on how you like audiobooks. I've been buying them for years from Audible. This won't replace audiobooks for me. It's no Jim Dale. There are 3 speeds: slower, normal and faster. Depending on how fast you read it may work for automatic page turning if you turn the volume all the way down and put it on fastest. You also may need to increase/decrease the font size to get it to work just right for you. I'm not crazy about the female's voice, but the guy's is ok. There are mispronounced words and strange pauses while reading. Those actually can be amusing, although a bit confusing. I don't see me using this much, unless I can use it at a page turner (which I will be trying later)
Misc: I like the progress bar instead of the dots while reading. Much easier to see where you are in the book. I like the fact it show the beginning and end location number and then the percentage of what I've read.
Battery: Yeah, you can't replace it yourself. Would I like to? Sure. Is it a deal breaker for me? No. It's a trade-off I can live with to have a longer battery life, a thinner design, and to not have to worry about the back cover falling off.
Shortcuts: At first use, it appears many of the KK's shortcuts aren't usable with the K2. Alt-T is gone (although you can see the time when you bring up a menu). Alt-B still works for bookmarking. I can't seem to add a custom screensaver..yet. I'm hoping someone takes the time to see if this is possible.
All in all, I'm very happy with Bella. I don't regret selling my KK at all. Other than not being sure about the keyboard, I haven't found anything I DON'T like yet, except….
FOLDERS/TAGS! I've said this before, and I'll say it until I'm blue in the face. I NEED an organizational system. REALLY! Even if it's as simple as something for my samples and another something for read/unread books, it doesn't need to be fancy, but it does need to be SOMETHING! Since this is something that was a problem on the KK, I'm hoping eventually Amazon decides to address this.
I'll be adding pictures to this review. Probably later today when I get the battereis for my camera charged. If you have ANY questions, I'll be happy to answer. Just remember these are my opinions only!
Link to Amazon's Kindle 2 page