Discussion Starter
·
#1
·
Hello Everyone!
I've recently published my first novel on the Kindle platform. It's a culturally diverse Urban Fantasy / Thriller with action, betrayal, and painful life lessons passed from a jaded immortal to a young man trying to make sense of the world.
You can buy The Remortal on Amazon here
Here's a short description:
----------------------------------
Telly is a homeless teenager struggling to survive on the streets of Los Angeles, but he has just met a man that can make all of his dreams come true. His rich new benefactor only asks for one thing in return-something no one else has been able to do for two and a half centuries.
He wants Telly to kill him.
The man with the death wish is named Van, and he offers Telly an escape from the constant fear, hunger, and shame that have haunted him during his homelessness. Telly thought he had Van all figured out, until a chance encounter with a gun-wielding thug shows that bullets don't do Van the slightest bit of harm.
Van is much more than he seems; he's an immortal seeking escape from a world he now despises. He desires a higher plane of existence, but in order to get there he must train someone to complete the grim ritual that will free him from the confines of his immortal body. If Telly can fulfill Van's request, he will inherit Van's wealth, strength, and eternal youth. But he soon discovers that Van is a harsh teacher with a questionable sense of morality, and there are other immortals who believe Van's plans for ascension could lead to something they've been dreading for centuries: the birth of a wrathful god.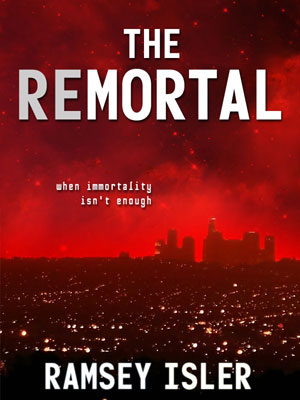 ​
If you're interested in learning more, visit the promo website for the book:
http://ramseyisler.com/remortal/
Amazon US
Amazon UK
Thanks!