Discussion Starter
·
#1
·
Right before Christmas, we suffered a rough week. We put to sleep an elderly cat, Dixie, on a Tuesday, and our beloved Greyhound, Pony, the next day.
In truth, Dixie hated me. In the beginning, my husband told me it was my imagination, but eventually could only utter a sympathetic laugh when I mentioned it. She wanted to marry my husband, and I was the obstacle, I was ... the other woman. So, while I was sad over her loss, it hit my spouse a lot harder.
But Pony was both of ours. The "handsome" looks and expression of Greta Garbo, a gentle spirit, a huge heart. The term "good dog" was made for her, and we were blessed to have her for so many years.
This did not leave our home empty -- a Sheltie, a Dachshund, and two young cats remained -- but it soon felt like there was room for another, and when I thought the time was right I asked my husband if he'd given thought to a second (rescued) Sheltie.
My husband said that he had, and that he knew I'd been looking. He was smug as he said this, and so I truthfully said I'd only actually looked earlier that day...
And fallen in love with a little blue merle* named Ian.
I contacted Sheltie Rescue, and because we were adopters in good standing said they could skip the references and home visits. They'd be glad to adopt to us again ... but not Ian.
We have a fenced in area of our yard, but it was not accessible by merely opening the back door ... it is a 12 foot walk. Ian was deemed too much of a flight risk.
I made one last best effort, explaining my previous experience with shy Shelties, and my work at an animal shelter, which involved handling dogs of all temperaments -- and getting them in and out of kennels safely. I also made clear that I'd read books specifically on puppy mill dogs, which Ian is and was.
And I was still told no, politely. The adoption coordinator mentioned 3 other dogs she thought would be a good fit -- two outgoing guys, and one shy puppy mill dog.
We eliminated one dog because of distance, and because it sounded like he had some terrific prospects.
Our choice was then between a very large (for the breed) blue merle named Sig, and the little puppy mill boy, Tator, a tricolor.** We debated back and forth, torn between both. My husband admitted that the Tator's shyness scared him ... that he also was a flight risk, and would need a lot of time and patience to socialize.
We chose to meet the big blue planning to make a weekend of it since it would be a 4 hour drive. As a certain quilter can attest, rural Northern MN is its own world.
The foster mom started to balk at the distance, not wanting a dog she now loved to be so far away, perhaps wanting to do a drive-by. And so we send photos of beds, toys, the Kong stuffing area, and fenced in area, and Sheltie bric-a-brac.
I sent the pictures to the other foster, too, because I couldn't get the little tri off my mind.
Sig's foster mom -- the blue -- said the pictures put her mind at ease. We made the trip, and all seemed to go well, but I knew -- sensed -- she still did not want to let him go. Part of the process is a 24 hour waiting period before deciding.
We went shopping for more toys and treats at a local dog boutique, and a nagging voice told me it was not happening. With this in mind, I fell asleep in the hotel room -- I had not slept the night before, because I was too excited.
I woke up at midnight to an email from the foster in which she asked if I'd gotten her text message. As I searched for my phone, I thought, "well, this is it." The message was instead to come by earlier in the morning since some severe weather was coming in, and we'd need to get on the road.
So, I emailed back, agreeing to do the adoption earlier. I emailed again 10 minutes later to tell her about the spending spree. In the morning, I emailed to ask if we could borrow an item of clothing or cloth with her scent to help Sig on the way home.
And there was no response to any of the emails.
Twenty minutes before we were due to head to her house, my husband called over to her house.
No answer.
A few minutes later, the adoption coordinator called to say the foster mom had called her to say she couldn't do it, and -- by the way -- we'd be showing up at any minute.
I want to say that everyone at the rescue was great, and this woman could not have been more apologetic, and awesome. She asked if we wanted to see the other dog, Tator -- and that she could do an emergency meeting.
Yes, I wanted to see him. While I wish the other foster mom had been more up front about what she could do, I couldn't be too upset at her keeping a dog she loves, and allowing him to stay where he feels at home.
So, Tator, 8 year old puppy mill dog, 27 teeth removed, face of a little baby angel, and no picture does him justice. Do you get the impression that he is our new dog?
We changed his name to 'Gator, because -- 27 teeth removed -- and not an aggressive bone in his body. I love him so much, but at this point he does not "get" people. You can do anything to him, and he will allow it, but the bond is not there yet.
We've had him about a week, and he is getting the idea that treats are a very important part of the daily routine ... that he likes.
Would you like to meet him?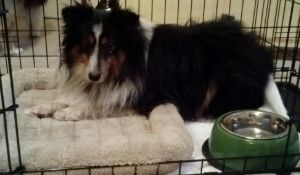 The rest of our canines: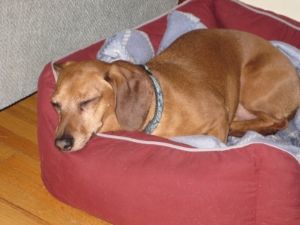 And Pony: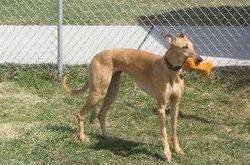 For people thinking of adopting a puppy mill dog, I found these books to be helpful:
*Mostly gray doggie with some black and other shades mixed in.
**Mostly black doggie, with some tan and white.