Discussion Starter
·
#1
·
Living in a small town in S.E. GA, I encounter more than my share of critters. Some wander by on their own free will, others are dragged in by the throat thanks to my cat Fuzzy.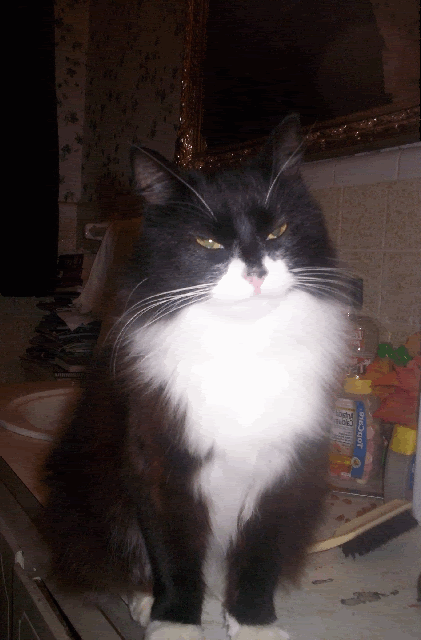 The weather here this week has been very warm so I've got most of my windows open, including the 'cat window" It's the one Fuzzy and TYPO use to enter and exit the house so I don't have to get up and open the door for them. i am kinda lazy.
Fuzzy has a tom cat friend that lives down the street from us. He likes to sneak in when he thinks I am gone so he can eat my cats' food.
I was on the couch with the Kindle reading when I heard him coming. He always announces himself by meowing loudly. He seems to think that if I am at home and hear him coming, I'll peak out and he will run away.
Not this time
I put my kindle down, hid under my blanket and waited. The window is right next to the couch. I didn't want him to see me and run away. I hear him on the window sill, "Meow?" I stay still. Thump. He's in the house.
5
4
3
2
1
!
I jump up! He is half way to the bathroom where the food is. I slam the window shut! He has this funny "
OMG!"
look on his face.
After about 20 minutes of him bouncing off windows and sliding glass doors, I get him cornered in the empty bed room.
meow pant pant pant meow pant pant pant
This is one huge cat. He's sitting on a glass table by the closed door. Very carefully, I slowly reach out and pet him a bit. We talk a bit and I explain to him that stealing food from my cats is a bad idea..
Then I reopened the window and let him go. It's been 4 days and he hasn't come back.
The next day, I hear my dogs barking at something out front. they don't bark all that much so I was expecting to see a lose dog running around out there. Instead i saw 8 of these walking down the street in front of my house. One was a nearly full grown juvenile. It was as big as the adults but has fuzzy grey feathers instead of the normal adult feathers.
I tried to send Fuzzy out to get one for us but she wasn't interested. There were too many of them and they were all bigger than her. She was like you want them? You get them, I was asleep!
Then Wednesday rolled around and I found Fuzzy in the living room with a squirrel. It was dead so I tossed her and her dinner out the window and closed it. If I don't she will just bring it right back in.
The worst thing she does in bring in birds. If I dont find her in time, I will find the living room covered in feathers. I really hate that.
Sometimes she wants to show me before she kills stuff. I really hate that. It means I have to save the critter and try to release it somewhere she can't get it again.
Sometimes they get away before I can 'rescue' them. I have a rat and a chipmunk in my walls thanks to that.